1 or 2 cords
The drawstring cord is the most common system to close your bag. First there is the 1-drawstring fastening which requires that one hold the bag in one hand and pull the drawstring with the other : this option is best-suited to small bags. Then, there is the 2-drawstring cord fastening which is easily closed by pulling on each drawstring.
The end of the drawstring cord is often a simple knot. Upon request, an accessory such as a transparent tip and/or a cord lock. 
Color of the cord
Each cord quality has its own color chart and is manufactured to order. For a particular shade of cord, simply indicate the desired Pantone reference and the cord will be produced in that shade.
The colored cord is made from a white core, which provides shape and rigidity; the dyed trim threads surround this base and create the final cord.
For a fully dyed cord (core and covering thread) a large length is required.
Polypropylene braided cord
This is the cheapest drawstring cord with a limited range of colors (black, white, red, light gray, brown, navy blue and unbleached (ecru,) with a 2 to 3 mm diameter.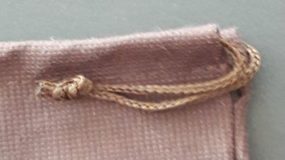 Flat or round polyester cord
This is the most common drawstring cord with a good quality/price ratio, a 2-3 mm diameter and it comes in 50 colors.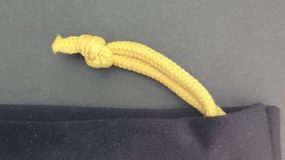 Cotton cord
Made from natural cotton thread, it is of a higher quality but has a more limited color choice than the polyester cord. The most common diameters are 4 and 5 mm.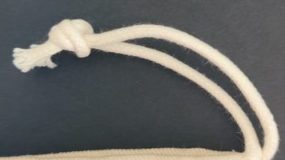 Variations
Though the drawstring cord is most often round, flat cords are also available.
All cotton cords can be waxed to make them more stiff and give the bag a higher quality finish.
Please note
On the online price request form, the cord suggested is the standard 2-3 mm braided cord in either polypropylene or polyester.
If you would like a particular cord, please specify so in the « additional information » field at the bottom of the online request form