The pouch-bag is an original two-in-one product: it closes like a pouch thanks to its double drawstrings, and is easy to carry like a bag thanks to its handles. It combines the advantages of a pouch and a shopping bag. At the request of several customers, we created this fabric packaging.
The pouch bag is a real packaging saver, eliminating the cardboard box for shoes or the cardboard case for a bottle.
IF our customers already use it for shoes or bottles, the pouch bag can be adapted to many other activities.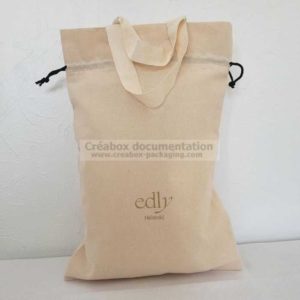 Another original version: the 2-compartment bag. Instead of having a single space in which two shoes or two bottles are next to each other, here the volume is separated into two parts by a vertical seam. Each shoe or bottle then has its own compartment. And to facilitate transport, handles are added. Once again, the pouch becomes an easy-to-carry bag.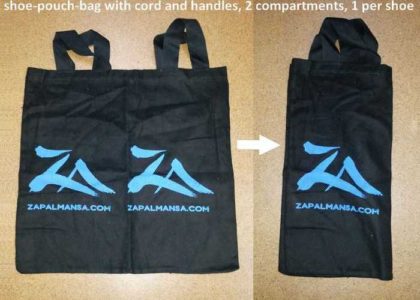 The two-in-one bag can be custom-made to your dimensions and personalized with your logo.
The minimum production quantity is 1000 pieces. All fabric qualities are suitable. However, for quality shoes (shoes, pumps), Créabox recommends the use of one-sided or two-sided brushed cotton (flannel cotton) that helps protect and enhance the leather.
Good to know
In the "additional information" field, at the botton of the price request online form, you can ask for a specific request.