1 or 2 cords
The drawstring cord is the most common system to close your bag. First there is the 1-drawstring fastening which requires that one hold the bag in one hand and pull the drawstring with the other : this option is best-suited to small bags. Then, there is the 2-drawstring cord fastening which is easily closed by pulling on each drawstring.
The end of the drawstring cord is often a simple knot. Upon request, an accessory such as a transparent tip and/or a cord lock. 
Couleur du cordon
À chaque qualité de cordon correspond un nuancier et la fabrication se fait à la commande. Pour une teinte particulière de cordon, il suffit d'indiquer la référence Pantone désirée et le cordon sera produit à cette teinte.
Le cordon de couleur se fabrique à partir d'une âme blanche, qui apporte la forme et la rigidité ; les fils d'habillage teintés viennent entourer cette base et permettent d'obtenir le cordon final.
Pour un cordon entièrement teinté (âme et fil d'habillage) un métrage important est demandé. 
Polypropylene braided cord
This is the cheapest drawstring cord with a limited range of colors (black, white, red, light gray, brown, navy blue and unbleached (ecru,) with a 2 to 3 mm diameter.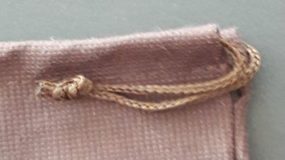 Flat or round polyester cord
This is the most common drawstring cord with a good quality/price ratio, a 2-3 mm diameter and it comes in 50 colors.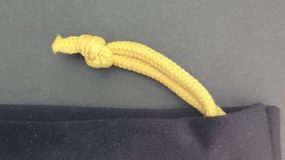 Cotton cord
Made from natural cotton thread, it is of a higher quality but has a more limited color choice than the polyester cord. The most common diameters are 4 and 5 mm.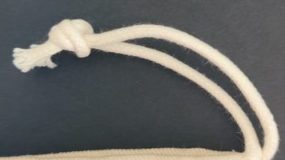 Variations
Though the drawstring cord is most often round, flat cords are also available.
All cotton cords can be waxed to make them more stiff and give the bag a higher quality finish.
Please note
On the online price request form, the cord suggested is the standard 2-3 mm braided cord in either polypropylene or polyester.
If you would like a particular cor, please specify so in the « additional information » field at the bottom of the online request form